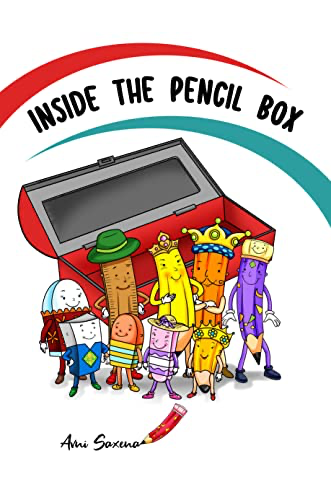 A gentle story for early readers aged five and up, as well as children new to chapter books, Inside the Pencil Box's school supply characters learn to work together and overcome differences, in an imaginative book featuring "…the magical world within Emma's pencil box, where two kingdoms lie: the Pencil Kingdom and the Eraser Kingdom. Here, school supplies turn into lively characters."
Citizens of two imagined pencil box kingdoms express discontent, each believing their role to be most important, wreaking havoc with a cheery little girl, Emma's, school day.
The plot opens with the aristocratic First Family of the Pencil Kingdom lamenting the rival kingdom's erasers rubbing out their hard work each day. Of course, the erasers here have a different view: that pencils are responsible for an intolerable number of mistakes. Their rivalry peaks in the destruction of Emma's school assignment and homework, making the teacher angry, and ruining Emma's school day. Later, the venerable ruler brings the voice of experience to bear on the Pencil Box conflict, helping both parties see the other's point of view.
Naturally, pencils and erasers learn, over the course of Avni Saxena's picture book, that they must work together to fix Emma's ruined schoolwork, their teamwork heralding the arrival of the eraser-tipped pencil. The pencil box characters unite here in a plot point that celebrates technology and innovation in a manner direct enough for young learners, while providing wider discussion points for parents and teachers.
Enlivened with bright, engaging full-color illustrations and a straightforward writing style, Inside the Pencil Box delivers its lessons on cooperation lightly and with charm.